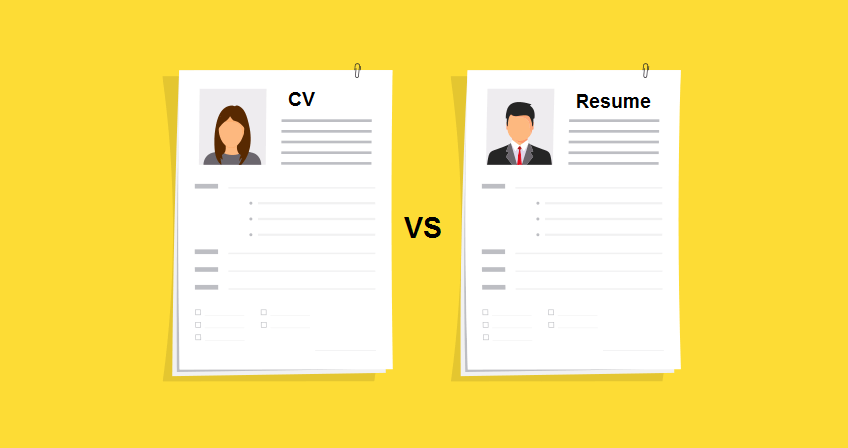 Which is better for Fresher CV or Resume?
Most people think that a CV and a Resume are the same things and that there is no difference which is a big blunder. CV and Resume are similar but are actually used for different purposes. The majority of the people mix up these two terms and do not clearly know the differences between them which is a major lacking. It is extremely important to have proper knowledge about such things.
There are major differences between these two documents and both of these documents are used for different purposes.
Freshers who are in search of jobs are already very nervous and worried. And I believe you must be one of those freshers hunting for jobs to start your career. You are also confused about these terms and how to create the different layouts. Let us help you and guide you in the best possible way so you can be stress-free and focus on other important things like interviews because we guarantee you that through our guidance you will definitely get a reputed job.
Firstly, we are going to guide you and let you know about the major differences between a CV and a Resume. Secondly, we are going to tell you, which is better for a fresher, a CV or a Resume with proper reasoning. We believe before sending any resume/cv one should know why and what am I sending? Is it the right thing to send?
Differences between a CV and a Resume:
Curriculum Vitae Sample or CV:
CV is very simple and short for Curriculum Vitae Sample.
The main elements of the CV are:
Research Objective, Personal Profile, or Personal Statement
Work Experience
Academic Qualifications
Education
Contact information
Professional Academic Appointments
Books
Book Chapters
Peer-Reviewed Publications
Other Publications
Awards and Honors
Grants and Fellowships
Conferences
Teaching Experience
Research Experience / Lab Experience / Graduate Fieldwork
Non-Academic Activities
Languages and Skills
Memberships
References
Length of a CV:
There is no specific length of a CV. A CV is usually long and has around 2 to 3 pages. It has in-depth details of the whole career. There are lots of details in a CV
The layout of a CV:
The layout of the CV is completely different. Various elements have to be added to the CV. The elements have to be in detail. This means that the layout is going to be completely different.
Purpose of a CV:
The purpose of a CV is for academic purposes.
Resume:
The main elements of a Resume are:
Contact Information including Job Title
Resume Summary or Resume Objective
Work Experience
Education
Skills
Additional Sections (Awards, Courses, Resume Publications, Licenses and Certifications, Interests, etc.)
Length of a Resume:
The length of the resume is usually from one to two pages long. It is a brief overview of the work experience and skills of the applicant. The work experience and skills in the resume are going to be according to the job title and position the candidate is applying for. The skills should be relevant to the job title
The layout of a Resume:
The layout is different according to the elements of a resume. All the elements are discussed briefly. There are no unnecessary details in a resume. It provides a brief overview of the candidate's work experience.
Purpose of a Resume:
Resumes' purpose is to use for applying for jobs.
Which is better for fresher a CV or a Resume?
Now that you know about the differences between a CV and a resume. It is going to make it easier for you to understand which is better for a fresher.
A resume is the most appropriate choice for a fresher. The reason behind this is that a resume only has relevant information and provides a summary of all of the experiences. A fresher does not have that much experience and hence this makes it the best choice for a fresher.
On the other hand, a CV is not a better option for a fresher because it requires in-depth details of all the work experiences of the applicant. Freshers do not usually have that much experience and details that they can write in their CVs
If you are going to start job hunting and looking for assistance, then you can take help from Writing Service UAE. It provides the best CV writing service in UAE and the best Resume writing service in UAE. It is reliable and authentic you don't need to give it a second thought.
The delivery is going to be on time because time management is very necessary. Your invested money is going to give you a fruitful outcome. Our customer support is 24/7 active so you can easily contact the professional writers at any time. To answer your queries, we are always available.