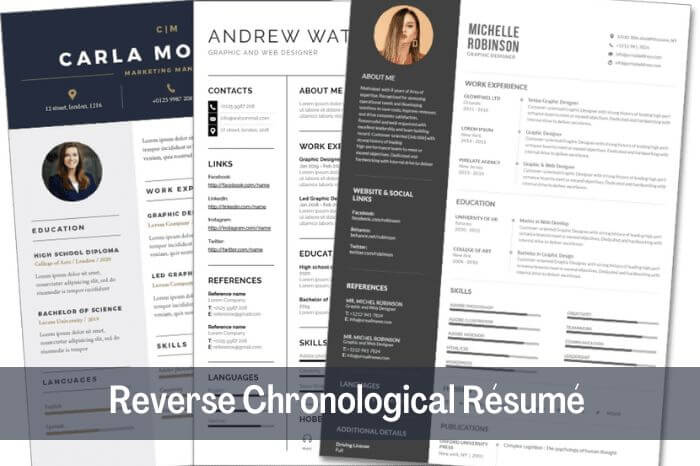 Reverse Chronological Résumé
The most common resume format is the chronological resume, commonly referred to as the "reverse chronological resume." The chronological resume focuses on and lists your work experience and accomplishments from most recent to least recent, making it especially recommended for those with extensive work histories.
What is a Chronological Resume?
A chronological resume starts with the most recent work and educational experiences and employs time as its primary organizational tool. Depending on which you believe is more relevant for a certain position, you can choose to start with the work history or education sections. The reader can easily see a consistent work history by reading a chronological resume. For job seekers who have a significant quantity of work experience in the field in which they are interested, chronological resumes are also a smart option.
A chronological resume lists your employment history and accomplishments beginning with the most recent or most recent job and continuing with earlier positions. The chronological resume is the best option for job searchers who have a tonne of experience and accomplishments to put on their resume for just this reason. Most importantly, research indicates that recruiters also prefer the chronological resume.
Chronological Resume Structure:
The structure of a chronological resume is simple. The key thing to remember is that your most recent or current experience, whether it be academic or professional, comes first. Then comes the second most recent, and so forth. The primary and most well-liked sections of a chronological résumé are listed below:
• Contact information
• Professional title and resume summary/objective
• Work experience and achievements
• Education section
• Your top soft/hard skills
• Include optional sections (languages, certificates, volunteer experience, etc)
You still have the option to style your resume using a chronological framework if you're a recent college graduate. All you need to do is reorder your resume's sections such that the one on education appears first.
Education
Typically, educational background is provided in reverse chronological order (the most recent education first and working backwards). Go no farther back than your high school. Please provide the following details from your different schools:
• The Name of the school
• TheCity and state of school
• The Dates of attendance (starting/ending)
• Whether you graduated or when you intend to graduate
You may also mention coursework that is related to the position you are applying for. This, however, is crucial: Never just give the course number without explaining what the course entails.
Career History
Typically, employment history is provided in reverse chronological order (the most recent job first and working backward). You don't have to include every job you've ever held, especially ones that were extremely brief or unrelated to the position you're going for. All but the most relevant jobs will gradually be left off as you get more experience. Please provide the following details from your different schools:
• Name of employer
• City and state of employment
• Dates you were employed
• Job duties by focusing on action verbs
When to Use a Chronological Resume Format:
The functional/skills-based resume format, the chronological resume format, and a combination of the two are the three basic types of resume formats. Depending on the position you're applying for and your level of experience, you'll use whatever you decide.
The chronological resume is the obvious option in the majority of situations. It is common, highlights the appropriate areas, and is preferred by employers over other styles.
However, if your employment experience is minimal, this does not imply you should automatically check the other choices off your list.
When to use a reverse-chronological Resume:
Concerning the format used in UAE, cv writing service Dubai experts have highlighted that when applying for positions in the academic, research, or scientific fields, candidates may be required to provide a resume. In other countries, a resume is the same as a resume. If you have at least a few years of professional experience, it's advantageous to use the reverse-chronological format when asked to submit a resume. This structure is effective because it puts the emphasis on your work history section and enables you to demonstrate how your career has developed.
Use the functional resume structure, which puts your abilities section above your employment experience, if you're a fresh graduate or entering a new profession. By concentrating on the transferable abilities you developed and used and can provide as a job candidate, that format lessens the emphasis on your previous, possibly less relevant employment.
Concluding Remarks
Just keep in mind to carefully describe their contents if you decide to include any additional parts in your resume. Consider whether a reader from the outside would comprehend your accomplishments. Be very careful not to presume that readers grasp the significance of such organizations or prizes without providing further explanation. Look at this, for instance: