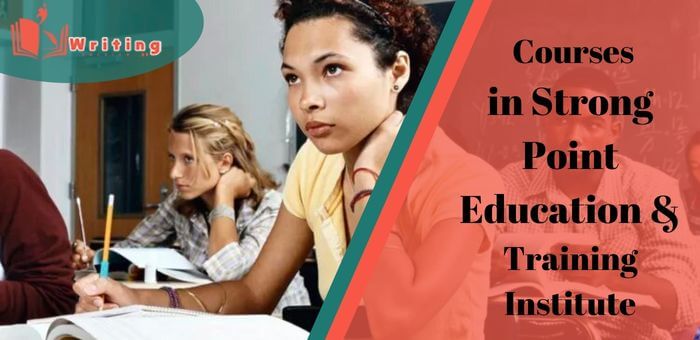 Top 3 Courses in Strong Point Education and Training Institute Dubai
Strong Point Education and Training Institute is an educational institute located in Abu Dhabi, UAE. All of the courses offered by this university are approving by KHDA (Knowledge and Human Development Authority).
The main aim of the institute is to increase Healthcare and Awareness Training. The institute believes that it is necessary to increase the medical force and aware people more of healthcare. They highly stress the importance of making the world a better place to live by increasing the number of professional caregivers. They have the aim to bring global change and want to promote healthcare training. The institute wants to train and educate more people because there would be more helping hands for needy people.
This institute has been in this industry for 5 years. They also aim to provide professional and management training. They also aim to deliver the best Education Support Services and Language Training. They are providing these courses as they will help the individuals who are at a learner point in coming up with solutions, improving their performance and efficiency, and improving their professional skills. The teachers in the institute are professionals and reviews the work of all students in the different classes.
Top 3 Courses offered in strong point education and training institute:
A new skill can be acquire through all the courses that the institute teaches. All of the courses are valuable but the nursing courses are at the top of the list. Out of all of the courses the top 3 courses in Strong Point Education and Training Institute are:
Certified Nursing Assistant Training
Caregiver Professional
Medical Coding
1. Certified Nursing Assistant Training
The institute aims to provide the best and most high-quality CNA courses throughout Dubai. This certification is accept worldwide. CNAs provide their assistance to all sorts of patients belonging to all age groups and having any kind of medical issue. A CNA is trained to be compassionate and kind to patients. Some of the responsibilities of a CNA include maintaining records of the patients, updating them to the doctor, fulfilling the basic needs of patients, doing basic clinical procedures, and assisting other healthcare workers and nurses.
2. Caregiver Professional
The training is given by professionals and this course is acceptable worldwide. The caregivers are taught to effectively communicate, observe, maintain records, and report to the doctor about the records. Caregivers mostly take care of aged people, people with physical and mental disabilities, and people who have trauma.
3. Medical Coding
It is the training in translating medical reports. The medical reports are translated into shortcode that is used in the healthcare industry. They are taught to do medical auditing. This helps healthcare services stay away from fraudulent activities. They check the documents and give penalties to organizations using fraud, documentation, coding violations, and other penalties.
Some of the other courses offered by the institute are:
CPHQ Certified Professional from Healthcare Quality Training
CFPS Certified Fire Protection Specialists
IELTS
OET
Spoken Arabic
Spoken English
Professional and Management Training
Technical and Occupational Skills.
There are many other courses offered by the institute.
The more people acquire these courses, the more there will be people with compassion to help others. The institute teaches the students to become better people along with teaching them knowledge and training them professionally. Nurses are empathetic, caring, and trustworthy. They build a connection with their patients, communicate with them, and fulfill their needs. The courses and environment at the Strong Point Education and Training Institute teach the students these qualities. The students show these qualities apart from their professional life and promote kindness. As discussed in the beginning, the institute not only wants to bring change in Dubai but instead it wants to bring global change. Training the students globally is going to promote empathy and compassion. The world is going to become a better and kinder place where people help each other in difficult situations and understand their needs.
Understanding these courses from a learner's point can get confusing. Hire online coursework writing services UAE to get assistance with your assignments. This virtual help from a professional and experienced writer is going to impress your teacher and you are going to get high grades in your classes.